SvoëMesto Kayfun Mini V2.1 - Full Kit
A slimline form factor SvoeMesto Kayfun series atomiser that goes well with everything from an eGo battery to a Precise+.  An exceptionally designed bottom fed silica wick rebuildable atomiser that is sure to satisfy even the most extreme enthusiast. This atomiser has very warm and flavourful vapour production.
Adjustable air flow allows the user to dial in the air and juice flow with ease. Filling and draining the tank is clean and simple without removing any parts from the atomiser. The full kit allows multiple configurations with both a clear window or full stainless and even a drip only mode which is tiny.
Designed in Russia and machined to exacting standards in Germany the Kayfun Mini V2.1 has far exceeded even our demanding requirements.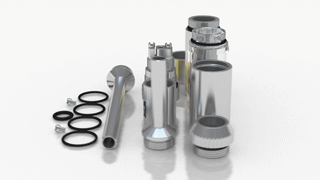 Features
Stainless steel construction throughout
Standard 510 connector with adjustable centre pole
Multiple configurations - drip mode, standard tank mode & long tank mode
Adjustable air flow
Juice capacity 3ml in standard mode and approx 5ml in long mode (using both tank sections and long air tube)
Makrolon (polycarbonate) clear tank  
Dimensions (approx)
Width: 14mm with stainless tank, 15mm with Makrolon tank
Length (not including 510 thread): 60mm in standard tank mode
Kit Contents
Fully assembled Kayfun Mini V2.1 atomiser 
Additional clear Makrolon (polycarbonate) tank
Extension air tube for long mode
Matching drip tip
1 eGo beauty ring 
4 Spare large o-rings
1 Spare small o-ring
1 Spare drip tip o-ring
2 Spare M1.6 screws
Suitable plastic filling tip or bottle

Accessories available separately
Resistance Wire
Standard Silica Fibre Wick - 2mm
Ekowool Wick
20ml Luer Lock bottle & smooth-flow tip
WARNING: Do not use a metal tipped syringe to fill or empty your Kayfun atomiser as it may damage the fill valve.
SvoeMesto products are made to an extremely high standard, however, very slight imperfections inevitably occur from time to time, and a completely flawless finish on every single part of such a complex unit cannot be guaranteed.  
A few e-liquid ingredients are known to react with acrylic and plastic tanks and tubes, please see Polycarbonate Issues for more information.
The Kayfun user manual, as well as support, discussion and tips can all be found in the SvoeMesto section on our forum.
*IMPORTANT NOTES: 
As with all rebuildables, a Kayfun series atomiser is an advanced user device and requires the willingness to experiment to get the best out of it for your own individual and unique vaping style. Filling the tank is different to filling most other tank atomisers. Watch the videos in the SvoëMesto Resources section on this site, and also check out the dedicated SvoëMesto section on our forum. Pay particular attention to how to fill and drain the unit. Please be sure you have done your research prior to purchase in order to understand what's required to build and use this device. Return requests for any reason other than a genuine manufacturing fault will not be accepted.
Please note that the sales price is subject to fluctuations in the Euro exchange rate and is dependent on the rate in force at the time we buy the units.