Aspire Revvo subtank
The all new Aspire Revvo tank is a truly new design with an innovative new type of coil, the ARC 'Aspire Radial Coil'. This 24mm tank has an adjustable top airflow construction and a special spring loaded filling tube. The all new coil design sits horizontally in the tank similar to a 'stove-top' design. Of course the real trick in the design is the increased surface area of the coil for great flavour and great vapour production. The Kanthal AF coil is rated between 0.10 & 0.16Ω (Recommended wattage 50-100W). (Manufacturing tolerance for the coil surface is 0.06Ω due to the way they are pressed.)
Filling the Revvo tank is another of Aspire's innovative designs, and it couldn't be simpler. In the centre of the tank, accessible directly through the mouthpiece, sits a spring loaded filling tube. The spring of the tube is soft enough to allow even slight pressure from almost any type of bottle/glass dropper to open it, but strong enough to create a leak-proof seal when released after filling.
Fitting or replacing the Aspire ARC coil is very easy. Simply unscrew the mouthpiece/top-cap and the coil mounting screw, remove the used coil and drop the new coil over the filling tube, ensuring that it sits flush with the body of the tank around all sides. Then screw the coil mounting screw and the mouthpiece/top-cap back on and that's it. The coil can even be changed with e-liquid still in the tank. As an added function, the conical coil mounting screw also acts as a spit-back protector.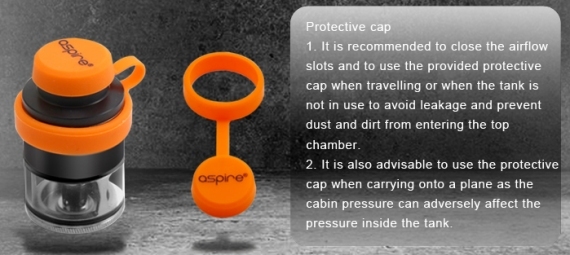 Included with the kit is a protective silicone cap. Simply close the airflow slots and to use the protective cap when travelling or when the tank is not in use to avoid leakage and prevent dust and dirt from entering the top chamber. It is also advisable to use the cap when carrying on a plane as the cabin pressure can adversely affect the pressure inside the tank and cause leaking. We think it's nice that Aspire thought of this little detail.
Package includes:
1 X Aspire Revvo tank
2 X Coils (Rated between 0.10 & 0.16ohm)
1 X Glass tube
10 X O-rings
1 X Protective silicone cap
1 X Warning card
1 X User manual
1 X Warranty card
Compatible parts (available separately)
Aspire Revvo ARC Coils - 3pk
Approximate Dimensions
24mm wide
41mm tall including tip and thread
Please note:
Tanks and heads are sold as disposable items and we are only able to offer a D.O.A. Warranty on them. See our Terms & Conditions for more information.
The Revvo is a sub-ohm tank and you must make sure the battery device you are using is fully capable of safely supporting the required drain rate. We strongly recommend you thoroughly research the topic before embarking on any experiments with sub-ohming. We will not accept any responsibility for any damage caused by sub-ohming activity.