XTAR VC2 Lithium Ion USB Battery Charger
Includes Micro-USB cable
Featuring a slick-looking real-time OLED with analogue style gauges to display the current charge state of the battery on charge and the input amperage from the USB cable. This charger will also display the mAh it has put into the battery as it is charging. The VC2 is suitable for all the 3.7V lithium Ion batteries we currently stock.
Specifications:
Charges one or two batteries at a time
Three-stage algorithm (TC-CC-CV)

Max charging current 2x0.5A

Reverse-polarity and short-circuit protection

Real-time display with charging status, and precise voltage display

Supplied with micro-USB cable

Batteries NOT included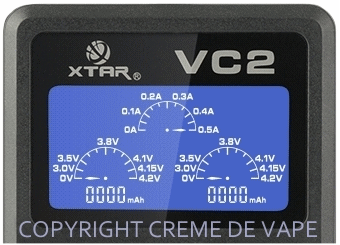 Please ensure you also pick up a USB Charging Plug separately if required.
Please read Lithium battery safety information before charging/using lithium batteries.