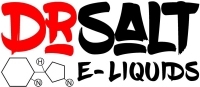 Dr. Salt E-liquid - 3 x 10ml
Blue Ice flavour
Blue raspberries and minty menthol combined for a refreshing fruity vape.
50% VG
Suitable for use in mouth to lung (MTL), all-in-one (AIO) or pod systems.
Dr. Salt e-liquids contain nicotine derived from natural products found in the tobacco leaf to produce a smooth vape without harsh throat hit usually associated with higher nicotine e-liquids. Salt-base nicotine (also called Nic Salt) is absorbed faster, enabling the user to be satisfied with less vapour and less vaping time.
Manufactured in an ISO Class 7 facility in Dorset, South West England.
See all Dr Salt e-liquid flavours