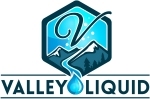 Valley Liquids 10ml e-liquid
Blue Ice
A sweet blueberry flavour with a hint of mint, to refresh your airways.
40/60 PG/VG
E-liquid from the valleys! Made from the purest Pharma-grade Glycerol & Propylene Glycol, Valley e-liquids are a 40/60 PG/VG mix and are certified free from Diacetyl, Acetyl Propionyl and Diethylene Glycol (DEG).
Supplied in a 10ml flexible LDPE bottle with Child-resistant cap and a thin tip for ease of use. .
See all Valley e-liquid flavours