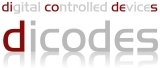 Dicodes Dani V2/V3 Extension Cap
Extension cap in two lengths to fit the Dani Extreme V2, V2+ & V3.
Choose from a single length extension cap to allow one size up battery, or a double length version for two sizes up in battery length. Each comes pre-installed with the required spring.